We live in an age of bargain shopping whether it involves cars, clothes, or groceries. It's only natural that we would also want to find the best ammo prices. Buying anything online may be somewhat uncomfortable for the novice shopper, but we've researched dozens of online ammo stores to find the ones with the highest ratings in price, service, and security.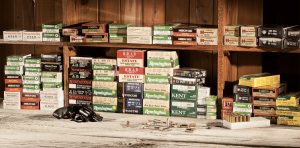 The diehard shooter or hobbyist may be accustomed to going to the local retailer to pick up a few boxes of ammo without considering the extra expense involved, or the time it takes to make the trip. Buying ammo online allows you to shop from the comfort of your home at any time of the day, find better prices, and get accurate information on products and accessories. It also allows you to find coupons, promotions, sales, and discounts that you might not have access to otherwise.
Everyone knows about Amazon, Walmart and eBay. What they may not know is that there are many sites that sell nothing but ammo, usually at much lower prices than those found in brick and mortar stores. The benefits of finding the best place to buy ammo include lower prices, the ability to purchase hard to find items, bulk orders, and convenience.
Best Places To Buy Ammo Online
Buying ammo online is still the best option whether you're buying 1 box or 1,000 rounds. With ever-changing prices, sales and supply and demand it's nearly impossible to say which is the best place online ammo store for each and every person. As long time buyers of ammo, we do have our opinion.
Our Top Pick
The #1 site for buying ammo online for us is Ammo.com. The website is streamlined and easy to navigate, separating ammunition by category: handgun, rifle, rimfire, shotgun, and ammunition brands. They offer the best ammo prices around and ship the same day when orders are placed by 3 PM.
Ammo.com isn't like any other website in that it supports pro-freedom and Second Amendment rights organizations. Purchasers can choose which organization to support and 1% of the purchase price can go to places such as NRA, the Second Amendment Foundation, and Homes For Our Troops. Lastly, email newsletters and a "Resistance Library" that aim to arm you both philosophically as well as physically. Their weekly newsletters also go over all of their current discounts on calibers.
Other Online Ammo Stores
Based on reader input we've narrowed down 10 other online ammo stores that also provide great deals:
Things To Keep In Mind
There are some downsides to buying ammunition online, but they are few. Most of them involve knowing what the site offers and if they have items you want in stock and ready to ship. Nothing is more frustrating than finding the perfect item and then learning (perhaps days later) that the item is on back order. Additionally, ensure that the shipping fees and times are accurate. Most sites are clear about shipping, including restricted locations, but be sure to double check before making the final purchase.
The most important thing to consider before you buy ammo online is educating yourself about local, state, and federal laws. There are certain areas where websites are forbidden to tread. Some locations, such as Hawaii and Massachusetts may be assumed while others, such as Alaska, may come as a surprise. California, New York, and Illinois have different regulations per major city. Most states have restrictions on shipping ammunition for automatic weapons. International shipping is strictly forbidden. Not knowing restrictions and laws surrounding the shipment of ammunition can lead to lost orders, non-refundable charges, or worse.