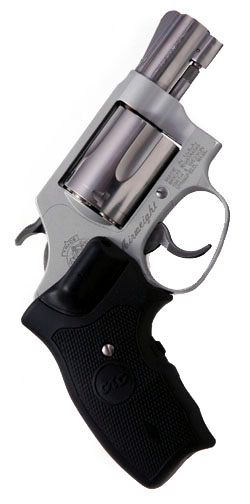 It has gotten so friggin hot that shorts and a t-shirt are about the only thing I can stand to wear. My preference is for a pair of cargo shorts with nice, deep pockets. In this mode of dress, the Airweight Model 637 is the perfect gun for concealed carry. My darling wife insisted on a set of Crimson Trace LaserGrips for it am I a lucky man or what? Her concealed carry permit is on the way, so I know Im going to have to buy another light snubby soon doesnt bother me a bit. I dont kick down doors for a living, and a five-shot snubby loaded with +p does the job just fine. The gun shop commandoes can rave about their 18-round magazines, but the fact of the Airweight Model 637 matter is that the five in the snubby is usually five more than I actually need. With a couple of speed-loaders in the little pocket in the front of the main pocket, loaded with Remington 129 grain +p, I am adequately armed. I dont worry a bit. I know I can shoot this little gun and ruin any bad guys day with it in a heartbeat.
I stopped by my favorite gun shop, Shooters Supply in Lyndon, Kentucky. My favorite salesperson there is Albert Lui. We always visit a long time whenever I stop by. Hes a member of the Kentucky Practical Defense League like I am and we have shot a lot of matches together. Like me, he loves the tricked-out 1911s for the match, but when I stopped by the shop to pick up a set of Hogue Monogrips for the Model 60, we got to talking about snubbies. I was packing the Model 637 in a pocket holster. Albert showed me the gun he was packing. With all of the cool guns that Shooters has to offer, (and they have a bunch) he was packing the Smith & Wesson Model 649 accessorized with a Barami Hip-Grip. This is an all-steel .357 Bodyguard. He had a local gunsmith slick-up the trigger and it was really nice. Quoting Albert, "It's enough gun for me. I just don't put myself in situations where I'm going to need more than five rounds." Conceptual connections.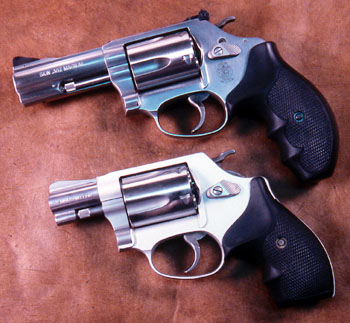 With the Crimson Trace LaserGrips, the snubby becomes a formidable weapons system. I took my darling bride and my eldest son to the range this week. She had the CT grips on the Model 60 and he was shooting the XD-9 Tactical equipped with an Insight X2 laser sight/tactical light combo. They both shot much tighter patterns using the lasers than they did with iron sights. I like them too.
A lot of folks like to say that the five-shot j-frames are obsolete. These are usually folks who are packing baby Glocks or Kahrs. Theyre wrong. The little j-frames are still the most easily concealed and comfortable to carry handguns of anything available today. The little Kahr's and Kel-Tec's are attractive in many ways. The Kel-Tec's in particular are very concealable but they are a tad underpowered. Personally, I remain distrustful of the Kahr's. Quite a few people simply prefer the simplicity and reliability of the revolver, and it can launch a really powerful round if you so choose.
One thing I notice is that you almost never find deals on these guns used. The people who have them hang onto them. They work. They do the job.