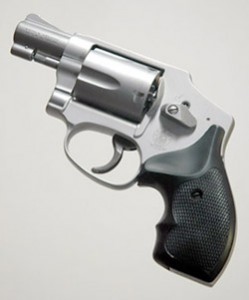 It was the best selling firearm offered by Smith & Wesson in 2006. Tradition holds that the original design emerged from the creative mind of Col. Rex Applegate. Among the small revolvers, it has been called a personal favorite by Walt Rausch, Massad Ayoob, Jim Wilson, Stephen Camp, Ken Hackathorn and many others. Jim Supica, author of The Standard Catalog of Smith & Wesson, said that it was possibly the finest pocket revolver ever made. It is the Smith & Wesson Model 642 Airweight Centennial.
There are three basic form factors for the J-frame Smith & Wesson snubnoses. First, there is the standard exposed hammer Chiefs Special such as the Model 36. Second, there is the Bodyguard which has a shrouded hammer, but it can still be thumb cocked and fired single action. Third, there is the Centennial which is often called hammerless a misnomer because it actually has a hammer which is completely enclosed in the frame. Since the hammer is completely enclosed in the frame, the Centennial is double action only.
The Model 642 is the stainless Airweight version of the Centennial. In the early 1950s, Centennial models were originally introduced as the Model 40, a blued steel hammerless .38 Special, and the Model 42, a blued aluminum alloy framed version of the Model 40. The Models 40 and 42 had grip safeties. (For more on the history and development of the Centennial series, click here.) The modern Airweights are produced in both blued and stainless steel finishes, but the stainless version is far more popular. They have aluminum alloy frames with stainless steel cylinders and barrels. Unloaded, the Airweight revolvers weigh about 15 ounces. The Airweights are still chambered in .38 Special rather than .357 Magnum, and they are rated for +p ammunition. The original model 42 was not rated for +p and +p is not recommended for them, although I have heard of a number of people using +p in the Model 42 without negative effects. The Airweight Models 442 (blued) and 642 (stainless) were brought to market in 1990, discontinued in 1993 and reintroduced in 1996 as the 642-1. As noted earlier, the Model 642 has been enormously successful.
So, What Do People Like About the 642?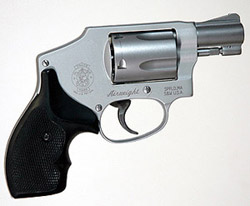 Its light, compact, easy to carry, snag-free and enjoys an excellent power to weight ratio. Its easy to operate and renowned for reliability. That about sums it up, but I want to expand on these ideas.
Carry-ability
The characteristic that first endeared me to the Airweight snubnose is a factor I had to make up a word for, carry-ability. Carry-ability is a matrix of weight, shape, size and power that when stirred together gives me a rating of ease and versatility of carry balanced against the level of security and confidence the gun gives me. The Airweights really hit the sweet spot for me on carry-ability. A Kel-Tec P32 is great on weight, size and shape, but suffers with an underpowered cartridge. The M1911 is a tremendous shooter with a powerful cartridge, and its even fairly flat for surprisingly good concealment, but it is large and heavy. Glocks are lighter, but they are thick and angular and I find them fairly difficult to conceal, especially in warm weather clothing. The Kel-Tec and the 1911 both rate highly in some parts of the matrix, but fall down badly in others. The small size and light weight of the 642 means that you can carry it for many hours in all kinds of clothing, and in a wide variety of carry modes belt holster, ankle holster, belly band, pocket, purse, etc.. It has tremendous versatility for carry while still loading a fairly powerful cartridge. The 642 rates very highly in carry-ability.
Snag-free Double Action Only
Smith & Wesson builds a whole gaggle of Centennial variants, but they are distinguished primarily by their metals; the shape and action are the same. Taurus and Charter Arms also build their own versions of the Centennial closely patterned off of the original. These all share the enclosed hammer double action only design. There is little or no reason to have single action capability on a self-defense revolver, so why have a hammer sticking out to snag on things? The smooth hammerless contour of the gun makes it ideal for pocket or purse, and it can even be fired from inside a pocket without the problem of getting snagged in the fabric.
Easy Operation
The manual of arms on a snubnose revolver, and especially the 642, is extremely easy to master. If you can pull the trigger, you can make it work. There are three controls: the trigger, the cylinder latch and the ejector rod. You can learn to use it in about a minute (maybe not well, but the manual of arms is not hard). There are more than a few folks who don't like or cant work an auto pistol. The mechanical simplicity of the revolver can be a tactical advantage under certain circumstances. See Why Carry a Revolver?Folks with physical impairments often find that the revolver will work for them where an auto will not. See Age and the Snubnose
Value
The Model 642 and its brethren, the Models 637 and 638, remain among the best values in personal defense firearms available today. Retail prices of the 642 remain under $400 in many places. With the entry point for new autos hovering around $600, the Airweights are looking better all the time. I also believe that the Airweights are a far better value than the scandium/titanium versions of these guns. The scandium Centennial, the 340, retails for twice the money of the 642. Now, I think the scandium guns are way cool, but their prices leave me breathless. For this additional money, you shave off about 3 ounces of weight from an already super light gun, and this also means you get a gun with an even more unpleasant recoil than the Airweight. The scandium models are also chambered not for .38 Special but for .357 Magnum. To me, firing .357 Magnum in a 12 ounce revolver is a physical absurdity. In a 26 oz. all-steel Model 60-15, .357 Magnum is tolerable; in a 12 oz. scandium Model 340, it is self-abuse. Bang-for-the-buck, the 642 is a terrific value.
An Effective Yet Manageable Cartridge
I wish I had a nickel for every kilobyte and gallon of ink that has been spilled arguing about the effectiveness of the .38 Special cartridge. The .38 Special was introduced in 1899. The reason the case is so long is that it was originally a black powder cartridge and the black powder needed that much space. The first .38 Special cartridge was composed of a 158 grain lead bullet in front of 21 grains of black powder. Despite the arguments about stopping power and such, the .38 Special has continued to do the job for 108 years. I find it hard to believe that people would have continued to use it for that long if it didn't work. Certainly, the .45, the .357, the 10mm, and the .40 S&W are more powerful cartridges, but interestingly, the .38 Special remains at or near the top of the lethality statistics, often rating higher than these more powerful cartridges. Part of that has to do with the fact that the .38 has been around for ages and more people use it than most other cartridges, although the 9mm is closing fast, but the other part of the cartridges effectiveness has to do with the fact that it is manageable in terms of recoil, but still powerful enough to stop an aggressor. There are a lot of folks who don't want to use or cant manage .45s and .357s, and these powerful cartridges are painful to shoot and unmanageable in compact pocket guns. Again, the .38 Special in the Airweight revolver hits the sweet spot in terms of power and carry-ability. Stoked with modern .38 Special +p hollowpoints, these little revolvers are highly effective and potent tools of self defense. I continue to search for a gun shop commando to take a couple of .38 Special +p rounds to the chest and then tell me it doesn't work. So far, I haven't found any volunteers. Too many highly experienced gun fighters who have seen the balloons go up have relied upon .38 Special snubbies for backup and deep concealment for me to believe anything but that they work, and they work very consistently.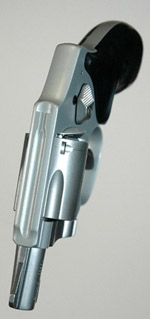 Ergonomics
Autoloader fans are fond of pointing out the fact that revolvers are wide at their cylinders, and this is true,although the difference in width between autos and revolvers is often exaggerated by those wanting to make the case for the auto. A Springfield XD is 1 1/16 wide. The 642 is 1 3/16 wide at the cylinder. That's a 1/8 difference. A 1911 is narrower at 7/8. Everywhere else on the 642, it is considerable thinner and smaller than most autos. I cant put the XD in my pocket; the 642 will disappear into my pocket because of its natural, rounded shapes. The rounded, organic shapes of the 642 (and its cousins) make it very comfortable to carry and very easy to conceal because it blends into the natural curves of the body better than an angular autoloader with lots of sharp corners.
Safe and Reliable
Safe is a strange word to use about a handgun. After all, they are by definition dangerous. If it weren't dangerous, I wouldn't carry it, goes the famous quip from a Texas Ranger. In this context, what I mean by safe is that the gun has inherent characteristics that help to prevent accidental discharges. The 642, like all Smith & Wesson revolvers, has a fairly heavy double action trigger. Accidental activation of the trigger is very rare with double action revolvers. We don't tend to hear those, The gun just went off [not] stories about revolvers. (The gun never just goes off by itself, but irresponsible people continue to try to claim this piece of science fiction.) On the 642 there is no manual safety or de-cocking lever, nothing to forget to put on or off in an emergency or otherwise. The revolver tends to reinforce safe gun handling since there are no mechanisms providing a false sense of security. I believe also that the double action only (DAO) operation of the 642 contributes to its overall safety and avoids certain legal liabilities. See Double Action Only (DAO) versus Double Action/Single Action (DA/SA) for more on this issue.
Highly controversial to this day is the integral lock which has been included on S&W revolvers since Saf-T-Hammer bought S&W. The lock is activated with a key through a socket just above the cylinder latch. The locks have been criticized for a variety of reasons including the addition of needless complexity, caving into the demands of some states for locks on guns, and the possibility of unintentional engagement of the lock during firing. This last concern has been documented in a few of the early scandium/titanium models, but to the best of my knowledge it has not been documented on the Airweights. It has been reported to me that the problem has been resolved on the scandium/titanium guns, and we are not hearing new reports of unintentional engagement of the locks. I have tested three revolvers with the lock and it has never malfunctioned in my testing.
I had small children at home once upon a time, and when they were still little doodles whose judgment I couldn't completely trust, I used trigger locks on my pistols long before they were fashionable in some circles or mandated. I carried the key on my key ring so it would always be close by. The integral lock on the Model 642 could be useful in a number of situations, such as times when you might have to take the gun off and leave it in a locker or athletic bag.
While I can see the possible uses for the integral lock, I wish S&W would give us the choice to buy revolvers with or without the lock. I resent being forced to buy a Clinton-era "answer in search of a question."
Whats Not to Like?
Capacity
The 642, like all J-frame snubs, only carries five rounds, and that's not a lot. It is generally more than enough for most self-defense situations, but Murphy is alive and well, and it pays the prudent martial artist to carry a reload or two, or consider carrying a second gun for that one-in-a-million situation in which five rounds is inadequate.
Shoot-ability
These little guns are not the easiest firearms in the world to shoot well, and their light weight and small grips make the perceived recoil sharp. This makes them less than comfortable to shoot for extended range sessions. A pair of shooting gloves might be a good idea for someone who is just getting to know their new Airweight. You will often hear it said that snubbies are not accurate, but that just isn't true. Quality snubnoses are surprisingly accurate, and they will hit their targets, even at distance, when we learn to use them. The short sight radius, heavy trigger and small grip tend to work against highly accurate fire. These guns do require practice to compensate for the aiming issues. Don't buy a snubnose and throw it in a drawer and expect it to work for you when the chips are down. Practice and practice a lot with it. Practice reloading quickly. With practice and familiarity, you will be surprised at how well the snubnose will perform for you.
Double Action Only (DAO) Operation
I include this feature in both the positives and the negatives because some folks just don't like DAO. They want the option to thumb cock and fire single action. See Double Action Only (DAO) versus Double Action/Single Action (DA/SA) for more on this issue.
Summary
Two thumbs up! Its a great little revolver. The 642 is a time-proven design, endorsed by experts in the field, and an excellent value in a concealable handgun. Jim Wilson calls it the always gun because its one you can always have on you.
Specifications
Model: 642
Caliber: .38 Special +p rated
Capacity: 5 Rounds
Barrel Length: 1 7/8″
Front Sight: Integral Front
Rear Sight: Fixed
Grip: Rubber Grips
Frame: Small – Centennial Style
Finish: Matte
Overall Length: 6 3/8″
Material: Alloy/Stainless Steel
Weight Empty: 15 oz.